Best Luxury Travel Guide For Pakistan In 2022
By: M Fahad Khawaja
Pakistan is blessed with magnificent rugged mountains, valleys, lush green fields, hidden villages, and pure serenity. This is a must-visit destination for those who love to see the beauty the world has to offer. Conde Nast Traveller – a world-famous luxury travel magazine named Pakistan as the destination to visit in 2020.
The national government is keen to promote Pakistan as a key tourism hub. Thanks to several key policy changes, Pakistan is at the forefront of tourism in Asia.
Voyage Planners is proud to be the leading luxury travel company for Pakistan, with offices in more than four cities. We make sure you have a memorable experience of the majestic beauty Pakistan has to offer.
Our company is deeply rooted in local communities. It has a wide network that ensures you a luxurious, hassle-free experience.
From the exquisite Chapli Kabab of Peshawar to Karachi's mouth-watering Nihari, Voyage Planners is a pioneer travel agency. We incorporate luxury, local culture, and fine dining into your trip.
Luxury Hotels
Hospitality is a key pillar of tourism, and Pakistan has come a long way in alleviating it. Several luxurious five-star hotels are available for tourists in the country's major cities, along with exotic resorts and luxury guest-houses in the tourist hotspots.
Swat, Kashmir, Chitral, Gilgit, Islamabad, Lahore, Karachi all have dozens of luxurious and comfortable hotels.
The Serena, Pearl Continental, Ramada, Marriott, and Nishat are the main hotel chains operating in Pakistan. These hotels offer exceptional service, an unmatched level of comfort, and highly valued hospitality services.
The luxurious experience here is only enriched with the numerous fine-dining restaurants and luxury spas. A stay at these hotels is a spectacular glance into Pakistan's culture, heritage, and lifestyle.
Moreover, these hotels tend to be located in beautiful locations that offer a glimpse of the amazing scenery Pakistan has to offer.
Pearl-Continental Hotels & Resorts
Pearl Continental Hotels have always achieved excellent international standards of quality products and services. The top hotels in Pakistan have become synonymous with a tradition of personal service, efficiency, convenience, and guest satisfaction.
Pearl Continental Hotels has positioned itself as an eminently successful chain with fully owned Five Star Luxury Hotels and Pakistan resorts. They are currently operating in several cities like Karachi, Lahore, Rawalpindi, Peshawar, Bhurban, Muzaffarabad, and Gwadar.
The PC Hotel Group is consistently focused on enhancing its brand preference by always improving the performance of the existing hotels' portfolios and successfully expanding its hotels locally and internationally.
Nishat Emporium Hotel, Lahore
The busy, bustling city of Lahore has many hidden spots that will leave you astonished, and the Nishat Emporium Hotel is one of them.
Popularly dubbed as "the city within a city," Nishat Hotel proves that nature isn't the only thing that can leave you amazed. The architectural design is a sight to behold.
The Emporium Mall adjoins it, allowing you to explore a vareity of shops, restaurants, entertainment activities, and food chains. You'll never have your fill of the enormous place.
To relax after a day at the mall, you can head straight to their state-of-the-art heated pool and seal the deal to a perfect day.
Serena Hotels & Resorts
The Serena Hotel Group, in particular, has established itself as one of the world's leading hospitality brands offering quality accommodation, unique holiday and conference solutions, cultural heritage, and adventure tourism.
Its collection of 35 unique hotels, resorts, safari lodges and camps, palaces, and forts are located in some of the world's most interesting, enchanting, historic, and exotic settings.
Live a well-traveled life in style and experience authentic cuisines, indigenous aesthetics, and spectacular delights in some of the world's most extraordinary locations with Serena Hotels.
Whether it's your maiden voyage to Skardu or revisiting your favorite destination in Hunza, discover how each of Serena's properties offers its own distinguishing style. Serena Hotels are renowned for world-class hospitality and exceptional service.
Let Serena Hotels be your gateway to a luxury trip to Pakistan.
Voyage Planners are a certified booking partner. We can secure your hotel booking on the spot at the best available rates.
Hotels in Swat and Hunza
The Swat and Hunza Valley are breathtakingly beautiful. These locations are hotspots for tourists all year around.
Suppose you're on a splurge and are willing to spend a considerable amount of money for a luxurious hotel. In that case, Luxus Hunza is the place for you. Complete with a garden and terrace, a high-profile restaurant, and free WiFi throughout the hotel, you won't miss a thing.
The stunning view through the glass panes will leave you mesmerized. Couples frequently rated this hotel a 10.
However, suppose you're searching for a conventional homely cottage and would prefer booking something more affordable. In that case, Tourist Cottage Hamza has just the package for you.
It is located in a quiet corner. The architecture gives one the pleasant impression of being embedded into the soil. All necessary facilities are available for you to enjoy everything Hunza has to offer.
With our luxury travel packages, we can get you the amazing resorts and rest houses other travel agents simply cannot. In tourist hotspots such as the Northern areas of Kalam and Swat, Chitral, and Kashmir, hotels and resorts are often overbooked in the high-season.
We take great pride in our relationship with the local community and always promote sustainable tourism. This unique connection allows us to offer our tourists the best available luxury accommodation and ensure their tour is filled with memories of joy and comfort.
The Shangrilla Resort Hotel in Skardu, Riverdale Resort in Gilgit, Rock City Resort in Swat, and Hotel Walnut Heights are just some of the amazing exclusive options available to our customers.
Fine Dining
When it comes to food, Pakistan leads the way with exquisite cuisine and unique taste. Every city has got its own delicacies, and each equally amazing.
Pakistan has many luxury restaurants that cater to the burgeoning culinary arena of international tourists and adventurous foodies.
Luxury restaurants in Pakistan offer amazing food with exceptional ambiance and an opportunity to gain key cultural insights.
Here are some of our favorite luxury restaurants across Pakistan:
Lahore
The food in Lahore is to die for. With unmatched mouth-watering taste, exquisite ambiance, and ever-growing options to choose from, Lahore is Pakistan's food capital. The restaurants in Lahore are the embodiment of the best international culture and gastronomy.
When visiting Lahore, we highly recommend visiting Cafe Aylanto, Spice Bazaar, Haveli Restaurant, and Salt 'n Pepper. These restaurants are reputed for their excellent rating and are loved by locals and foreigners alike.
Islamabad
Our favorite restaurant in Islamabad has to be The Monal. At The Monal, come and gaze onto the verdant Margalla hills, dine on any of the seven large outdoor terraces while overlooking the city skyline in a breathtaking view. They serve a variety of cuisines ranging from Italian and French to Asian delicacies.
Other top fine dining restaurants in Islamabad include Wild Rice Restaurant, Street 1 Cafe, Chaaye Khana, and Asian Wok.
Karachi
As one of the largest growing cities globally and increasing affluence that exacerbates the city's culinary establishments, Karachi now offers a range of world cuisines and authentic Pakistani cuisine.
If you're looking for excellent barbeque & seafood served in an open-air setting right under the stars, Casbah is the place for you. The Grilled Surf n Turf is a La' Carte special.
The Dou Darya and Sajjad Sajji are also very popular among locals. These restaurants offer you authentic Karachi taste.
If that doesn't attract you, Cafe Flo, Pompei, Sakura, Okra, and The Pakistani @ The Movenpick surely will. These restaurants boast authenticity that extends to the restaurant's interiors. The amicable atmosphere allows customers to experience the best of fine-dining.
Recreation and Leisure
If you're an adventure seeker, you need to visit Pakistan and experience the best luxury leisure activities. The sense of fulfillment and joy from recreational activities is unparalleled to any.
We understand your need to blow off steam and bring you a list of activities that are sure to interest you.
Malam Jabba Ski Resort
Located in Malam Jabba near the Swat valley, this ski resort is saturated with history and culture. It currently boasts a 60 room five-star hotel, two 800 meter ski runs, an ice skating rink, chair-lifts, and zip-lining. If that wasn't enough, Malam Jabba Ski Resort is renowned for its various monthly activities, ranging from snowboarding competitions to survival camps.
Some spots in Pakistan are relatively harder to access due to the rugged roads leading to the place. Still, due to a broad, well-constructed street, this resort can easily be handled by a two-wheeled car.
Whether you're a free-spirited trekker or one to lounge in the snow, this is the place for you, especially in the winter season.
Mabali Island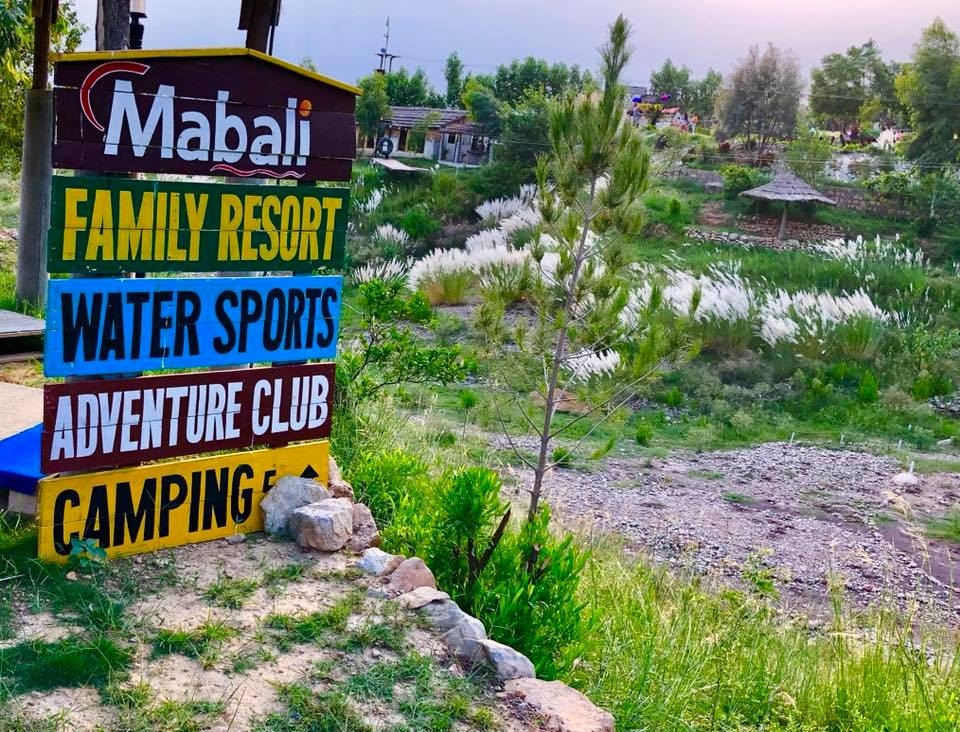 Mabali Island is one of the most prominent tourist attractions in Pakistan. The place is infused exuberant, hosting such a wide array of activities. It's enough to make anyone drool. The resort is located near Khanpur Dam in the KPK province, and is the perfect day trip destination if you're coming from Islamabad.
If you're a water lover, you can just about do anything you can think of. Jet Skiing, family boating, cliff diving (famously known as the Tarzan Jump), kayaking, fishing, wake tubing, you name it!
If you're not, Mabali Island has still got you covered. You can go hiking or trekking to steam off some energy or try some significantly riveting tasks such as archery and beach volleyball. With a tug of war and lively team-building activities to add to the list, I guarantee you you'll never be idle.
When it comes to ambiance, Mabali Island did not come to play. The Island is lined with romantic huts, caravans, and suites. It organizes open-air dinners and merry bonfires to set the mood.
To seal the deal, all the options for a night stay come with exclusive views of the lakes and mountains, ensuring your nights are just as blissful as your fun-filled afternoons.
Mabali's high reputation has now made it a preferred spot for destination weddings or celebratory events.
Mabali Island truly promises you the vacation of a lifetime.
Camping and Trekking
Camping allows us to immerse ourselves in nature in a way we are unable to during our busy everyday lives. Suppose you're interested in an action and adventure-packed holiday topped with love for nature and exuberant fun. In that case, you need to book yourself a camping tour.
Pakistan is undoubtedly a paradise for mountain trekkers, with 108 peaks that are above 7,000 meters. A team of climbers from Nepal was the first to conquer the K-2 mountain during the winter months.
Even if you're just a casual hiker, Pakistan has you covered. You can go trekking in several places within the country.
The Hunza Valley, Karakoram Mountain Range, Chitral, Deosai Plains, Fairy Meadows, and Khunjerab National Park can definitely give you the adventure shot you need.
For more information on our camping and trekking tours, contact us today!
Luxury travel in Pakistan is our forte. We take great pride in providing you with an experience of a lifetime. We're affiliated with all major hotel chains in Pakistan and offer you tours tailored to your needs.
From Swat to Kashmir, Kalam to Chitral, and Karachi to Bahawalpur, we've got you covered with the best luxury tours Pakistan can provide.
Thinking of visting Pakistan? Read our detailed Pakistan Tourist Visa guide here.